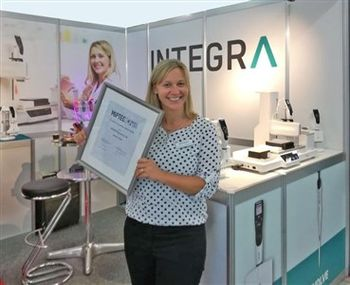 The ASSIST PLUS pipetting robot from INTEGRA Biosciences received a prestigious Basel Life MipTec Product Innovation Award 2018 at this year's MipTec exhibition. The event, held at the Congress Center Basel, Switzerland, from the 11th to the 14th of September, saw the judging panel visit each exhibitor, before selecting just three of the many scientific innovations showcased to receive this exclusive award.
The ASSIST PLUS puts automated pipetting within reach of virtually every lab. Using any INTEGRA electronic multichannel pipette, this compact system offers laboratory automation at an affordable price, providing reproducible and error-free processing while eliminating repetitive manual pipetting tasks.
Users can click any of the company's VIAFLO and VOYAGER electronic pipettes into ASSIST PLUS to automate their pipetting tasks. From plate filling and reagent addition to serial dilutions, the system eliminates the influence of human error and inter-operator variability on pipetting, leading to better reproducibility. And, as the smallest and most economical pipetting robot on the market to offer variable tip spacing, it is also ideal for tasks such as tube-to-plate transfers and plate reformatting. Combined with broad labware compatibility and a range of accessories – from tube racks to high capacity reservoirs – this ensures that it fits seamlessly into a variety o
f laboratory workflows, while still giving users the option to use the same electronic multichannel pipettes for manual tasks as required.