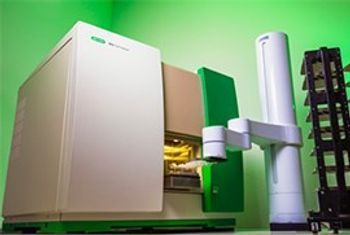 WASHINGTON, D.C. – Bio-Rad Laboratories, Inc. (NYSE: BIO and BIOb) today showcases new automation features of its ZE5 Cell Analyzer during the Society for Laboratory Automation and Screening 2019 International Conference and Exhibition (SLAS) in Washington, D.C., February 2–6. These capabilities enable the ZE5 to be used for high-throughput flow cytometry in biomarker discovery and phenotypic screening.
"Flow cytometers used in automated workcells for high-throughput phenotypic screening labs can create a bottleneck because standard flow cytometers can be slow with limited detectors and higher-end flow cytometers may not be automation-ready," said Dr. Xiaoti Guo, Bio-Rad Product Manager. "Bio-Rad has overcome these challenges by automating its high-throughput ZE5 Cell Analyzer so that a single operator can run up to 27-color phenotypic or targeted screens continuously, up to 24 hours a day," she added.
New features offered by the ZE5 help accelerate biopharmaceutical drug discovery, enabling researchers to scale up multiple assays, such as epitope binding or compound screening assays, when thousands of samples must be analyzed.
Key benefits of the upgraded ZE5 include:
Automation-ready – new application product interface and upgrades to fluidics handling allow easy integration of the ZE5 into automated workcells with laboratory information management systems (LIMS), robotic arms, plate hotels, and incubators, all controlled by scheduling software
High-throughput – the new ZE5 can process 96- or 384-well plates in under 60 minutes with no drop-off in data quality, even at an acquisition rate of 100,000 events per second
Flexible panel design – 5 lasers and 30 detectors, including up to 7 colors of UV excitable dyes, permit design of small and large panels
Bio-Rad invites SLAS attendees to hear a presentation by Chris Trussell from the Genomics Institute of the Novartis Research Foundation (GNF). Trussell discusses how the automation capabilities of the upgraded ZE5 Cell Analyzer enable GNF to perform large screens, with upwards of 30,000 samples, for receptor binding assays and how these features advance his research. The SLAS workshop presentation will be held on Tuesday, February 5 at 12:30 PM EST.
To learn more about the ZE5 Cell Analyzer, visit booth 849 at SLAS or go to bio?rad.com/HTFlow.
About ZE5
The ZE5 Cell Analyzer is an automation-ready flow cytometer capable of accommodating a wide range of experimental complexities and throughput needs. Its fully integrated sample loader and ability to handle various types of tubes or plates without an instrument hardware change provides walk-away functionality 24/7. Offering event rates >100,000 cells/second and the ability to design up to 27-color panels, the ZE5 Cell Analyzer helps researchers glean more results from rare cell populations in less time using their most precious samples, which is invaluable for understanding the complexity of biology and disease.
About Bio-Rad
Bio-Rad Laboratories, Inc. (NYSE: BIO and BIOb) is a global leader in developing, manufacturing, and marketing a broad range of innovative products for the life science research and clinical diagnostic markets. With a focus on quality and customer service for over 65 years, our products advance the discovery process and improve healthcare. Our customers are university and research institutions, hospitals, public health and commercial laboratories, biotechnology, pharmaceutical, as well as applied laboratories that include food safety and environmental quality. Founded in 1952, Bio-Rad is based in Hercules, California, and has a global network of operations with more than 8,000 employees worldwide. Bio-Rad had revenues exceeding $2.1 billion in 2017. For more information, please visit www.bio-rad.com.
This release may be deemed to contain certain forward-looking statements within the meaning of the Private Securities Litigation Reform Act of 1995. These forward-looking statements include, without limitation, statements we make regarding our development and launch of new products and our expectations regarding our products. Forward-looking statements generally can be identified by the use of forward-looking terminology such as "plan", "believe," "expect," "anticipate," "may," "will," "can," "intend," "estimate," "continue," or similar expressions or the negative of those terms or expressions, although not all forward-looking statements contain these words. Such statements involve risks and uncertainties, which could cause actual results to vary materially from those expressed in or indicated by the forward-looking statements. These risks and uncertainties include our ability to develop and market new or improved products, product quality and liability issues, our ability to compete effectively, and international legal and regulatory risks. For further information regarding our risks and uncertainties, please refer to the "Risk Factors" and "Management's Discussion and Analysis of Financial Condition and Results of Operation" in Bio-Rad's public reports filed with the Securities and Exchange Commission, including our most recent Annual Report on Form 10-K and our Quarterly Report on Form 10-Q. Bio-Rad cautions you not to place undue reliance on forward-looking statements, which reflect an analysis only and speak only as of the date hereof. We disclaim any obligation to update these forward-looking statements.
Press Contact:
Bio-Rad Laboratories, Inc.
Xiaoti Guo
434-202-9447
xiaoti_guo@bio-rad.com
CG Life
Ken Li
312-532-4675
kli@cglife.com