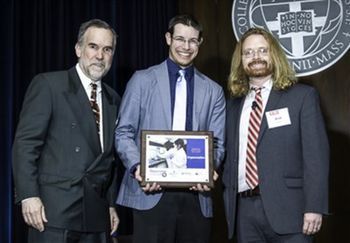 Organomation, a leading manufacturer of laboratory instruments was presented with central Massachusetts' Overall Manufacturing Excellence Award for a small company by the Worcester Business Journal (WBJ). Organomation was presented with the award at the fourth annual Manufacturing Excellence Awards on April 18 at the College of the Holy Cross.

"It was an honor to be recognized at the event along with several other impressive manufacturers from the Worcester area," said General Manager, David Oliva.
Recipients were chosen due to their significant operations in the central Massachusetts/Metrowest area and were judged based on the following categories: product design and innovation, workforce development and productivity, and green manufacturing.
Founder Dr. Neil McNiven foresaw the need for sample preparation instruments required for chromatography in 1959. He developed the first multiple sample, high-speed nitrogen evaporator for his own use at the Worcester Foundation, where he was employed as a researcher.

The original Meyer N-EVAP Analytical Evaporator consisted of twelve test tubes of various diameters that could be evaporated simultaneously with a unique front loading feature. The evaporator was sold directly from a small manufacturing area in Shrewsbury and later in Worcester, Mass., the second largest city on New England.