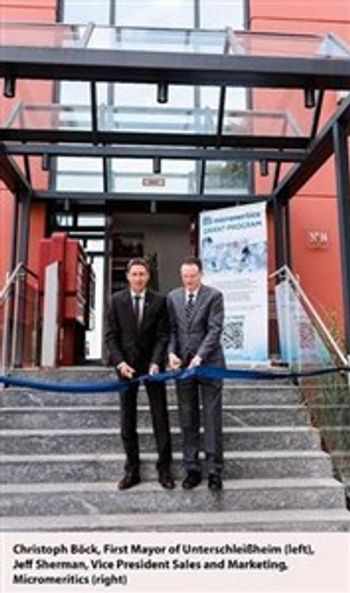 Subsidiary and its European Contract Services Laboratory, Particle Testing Authority (PTA), to Provide Broad Range of Solutions for Material Characterization
Micromeritics Instrument Corporation has celebrated the opening of its new German subsidiary and European application laboratory "Particle Testing Authority" in Munich-Unterschleissheim on July 9, 2019 with invited customers, employees and representatives of local politics.
Jeff Sherman, Micromeritics' Vice President Sales and Marketing, and Christoph Böck, First Mayor of Unterschleißheim, inaugurated the new office which, along with other locations in Merignac / France, Hexton / UK, Brussels / Belgium and Eindhoven / Netherlands, which will serve the company's European customers.
"Moving to an attractive and logistically well-connected location not only addresses our customers' increasing demand for excellent material characterization solutions, but also ensures rapid laboratory service in our European Particle Testing Authority application lab, as well as stresses our commitment in Germany," said Sherman. "We are thus continuing our successful growth and give more space for the demonstration of our offering at the new site." In the future, training and education will take place in the new branch, showing the latest developments in physisorption, chemisorption, mercury porosimetry or powder rheology."
"We are very pleased that Micromeritics has chosen Unterschleißheim. Not only do we offer a good infrastructure as we are close to Munich Airport but the city is also committed to economic development and a modern and family-friendly living and residential structure," said Böck," The city is attractive for skilled and highly qualified employees, because it is good to live and work here."
During the opening, company representatives were available for discussions on density measurement, surface and porosity analysis, particle size and particle shape determination, powder and catalyst characterization, and process development. Interested customers were able to find out more about which options and order measurements the European application laboratory offers them.