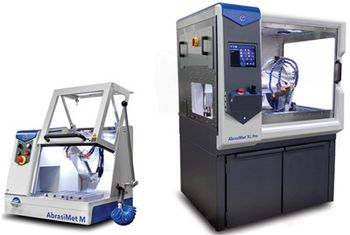 Buehler Debuts AbrasiMet XL Pro™ and AbrasiMet M
Powerful Saws for Sectioning Samples at Heat Treat 2019
Buehler
, an ITW Company premiered the
AbrasiMet XL Pro™
large abrasive cutter and the
AbrasiMet M
medium sectioning saw at Heat Treat 2019 that took place October 2019 in Detroit, Michigan. Buehler selected ASM International's Heat Treat 2019 for the official release the abrasive cutters because the show attracts the aerospace and automotive OEMs and their suppliers which include
heat treat facilities. The types of samples cut by these new saws vary from the metallic - automotive drive trains, gears, crankshafts and engine components to assorted aircraft parts to the non-metallic like polymers and composites.
Buehler's new abrasive cutters serve to reduce the sample size, remove the material damage quickly and provide consistency and repeatability in cutting large samples for production environments. This saves a great deal of preparation time in the quality control or inspection laboratory. High volume users will benefit from the durability and reliability they can count on to minimize down time.
AbrasiMet XL Pro and AbrasiMet M Saws are Ideal for Production Labs
The AbrasiMet XL Pro has intuitive capabilities with programmable user interface to reduce the time for set up and provides accuracy of alignment through laser and joystick control of xyz axis. Other key
features minimize deformation reproducibly, day in, day out. These include sectioning modes that
minimize the area of contact (MAC) during the cut such as "Planar Mode", capability of pulsing the cut to reduce potential for thermal damage and "Smart Cut", which optimizes feed rate to ensure high
quality cut surfaces when cutting materials of varying geometry and abrasion-resistance.
The AbrasiMet M saw is designed for heavy use and for labs that rely on sample cutting for production
quality control and inspection of parts up to 25" (635mm) in the chamber. Lab technicians will be able to change blades easily without tools, in addition cleaning of the 30-gallon recirculation tank will be less tedious due to the new dual tank design made of tougher materials and metal frame. This will save time in busy production environments and keep the momentum for sample analysis.
The Programmable AbrasiMet XL Pro Cuts Large Samples Effortlessly
The AbrasiMet XL Pro allows the sectioning of high-quality cut samples with a diameter up to 7in [178mm] which is best in class for an 18" cutter. It also has a 10kW motor, the most powerful motor on the market for this size abrasive cutter, and utilizes 14in [355mm] to 18in [457mm] blades AbrasiMet XL Pro. Its durable design, intuitive user interface and optimized chamber will make it the ideal cutter for customers using Chop, Y-feed or Planar cutting types.
This machine is managed by an intuitive touch screen which can be programmed for blade size, cut type, homing and tracking position, serial sectioning, Variable SmartCut and chamber wash-down. When processing a variety of parts, users can quickly load the specific program for their sample and begin cutting. The AbrasiMet XL Pro has a 13.4 horsepower (10kW) motor, the most powerful motor on the market for this size abrasive cutter, allowing it to cut through both large and high-strength materials quickly. It fits large parts up to 48" width (1220mm) in the chamber. It allows precise alignment of samples with three axis manipulation of the blade and table. Buehler designed an easy to clean recirculation system with a secondary filtration tank that can be cleaned without changing coolant.
The AbrasiMet XL Pro™ Meets Rigorous Demands of High Volume Quality Control
A touchscreen user interface with programmable methods reduces the time spent setting up for a cut by saving of cut parameters. This includes blade size, cutting type, feed rate, cut length, serial cutting and chamber wash-down. When processing a variety of parts, users can quickly load the specific program for their sample and begin cutting.
Accuracy in Alignment and Serial Sectioning. The cutter has movement tracking system to allow for precise cutting parameters and a green laser for easy X-alignment. One joystick controls all three-axis movement of the cutting arm and t-slot table which allows the blade to be precisely positioned. With precise X, Y and Z movement of the blade, multiple cuts can be made with one programmed cut.
Save time changing blades with the quick lock nut which allows users to hand loosen and tighten the nut onto the spindle.
Easy to clean with the newly designed recirculation system that simplifies cleaning. A secondary filtration tank with a stationary filtering screen which users can clean without changing out any coolant.
Large windows and bright LED lighting allow users to observe the cutting process and quickly detect if the cutting process needs to be adjusted.
AbrasiMet M Packs Power and Ease of Use in a Medium Cutter
The compact AbrasiMet M is a manual saw with a powerful 5.5 hp (4kW) motor that can accommodate
10"[254mm] to 12"[305mm] blades with a maximized cutter chamber space and sliding hood design to
provide customers with a quick, clean and simple cutting solution for sample preparation in any work
environment. Buehler designed the casting to be durable with a corrosion resistant stainless steel T-slot table. In addition, the hood design is reinforced for repeated opening/closing and the ?enclosed motor- cutting arm system to keeps debris and coolant out to maximize the life of the motor?.
Buehler engineers improved upon an existing design to deliver these advanced features for a table top
abrasive cutter:
Dual blade application to ensure parallel cuts, higher range of sample shapes and reduced overall sectioning time ?
Optimized RPM settings for 10in [254mm] and 12in [305mm] abrasive blades to maximize blade performance
Bright LED light strips to increase visibility of samples?
Adjustable cutting arm handle for user ergonomics?
Easy access valve and wash down hose for cleanability
More chamber space due to the motor now located outside of cutting chamber.
Ben Mangrich, Commercial Sales Director notes, "We have received our first orders of the AbrasiMet XL Pro from customers cutting large, heat treated components which require a robust and powerful saws. The AbrasiMet XL Pro has been in continuous use at customer sites throughout the world with 24/7 operation and has proven its durability in harsh environments. Our customers appreciate the benefits of both the AbrasiMet M and AbrasiMet XL Pro including efficient cutting and ease of use so they can produce more high quality samples in less time."