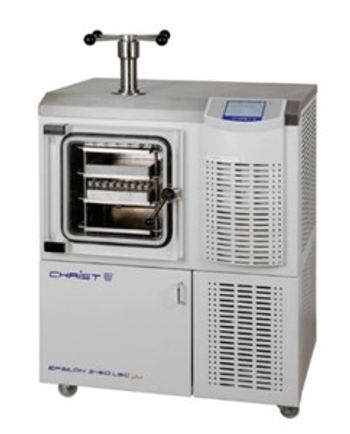 Elementar
, a technology leader in elemental analysis, isotope ratio mass spectrometry (IRMS) and optical emission spectrometry (OES) and Martin Christ, a world leading developer and manufacturer of freeze dryers, have agreed to collaborate on a sales, service and support partnership throughout the Americas.
Freeze drying is the most sensitive drying method available. Because samples are dried under vacuum without the introduction of heat, their composition remains in-tact and their integrity unharmed.
Preservation of form and original substance characteristics - particularly in the biopharmaceutical and drug development space - are key benefits of the technology from Christ. Much of the market - with a portfolio that includes Laboratory R&D, Pilot Plant and Production freeze dryers - can be addressed by the Christ technology.
Analytical instruments for TOC (Total Organic Carbon) analysis from Elementar deliver fast and efficient determination of total organic carbon in a variety of water and solid based sample matrices. In particular, pharmaceutical and biopharmaceutical applications including cleaning validation and fill-finish, require relatively pure waters with low level TOC concentrations. Ensuring that TOC levels aren't detrimental to the integrity of finished drug products are a key element of cGMP requirements.
"One-third of the world's pharmaceutical market is in our backyard. We are excited to partner with an established organization like Martin Christ whose focus on the drug development and manufacturing process chain will provide Elementar with the opportunity to drive adoption of our full portfolio of instrumentation, software, and services." Ryan Titmas, President & CEO, Elementar Americas, Inc..
Dr. Frank Harms, Managing Director Martin Christ Freeze Dyers said "We are very happy to co-operate with Elementar in the US, as we see many areas of synergies between the two partners. Our successful business model getting around the world is based on long-term partnerships with local, well established partners. We are convinced that we can offer together with Elementar premium sales and service support to customers within the US-market."