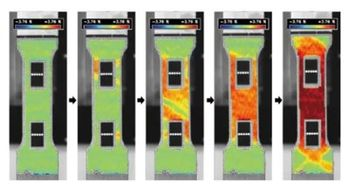 Shimadzu Scientific Instruments (SSI) introduces Strain View software, which enables real-time strain distribution visualization. Strain View software is easy to operate and seamlessly integrates with SSI's TRViewX digital video extensometer for simplified strain distribution imaging and data processing.
Strain View software displays the strain distribution in real time, allowing users to observe the strain distribution while conducting a test. Video files are linked with the stress-strain curve, enabling users to view strain distribution at specific points of interest.
User-friendly Strain View software is fully integrated with SSI's TRAPEZIUM™ X-V software. This allows users to view, capture, analyze, manage, and report data from one platform. Strain data can be saved in CSV format and exported to simulation software.
For more details, visit the Strain View information page.