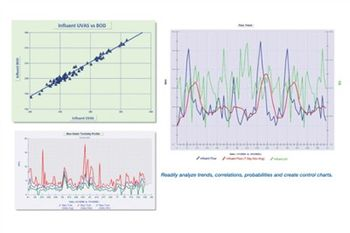 Loveland, Colo. – (September 27, 2011) – Hach Company, the industry leader in analytics and information management software solutions for water and wastewater utilities, today announced Hach WIMS™ 7.2, the latest version of its Water Information Management Solution for Lean Operations. New features include enhanced electronic reporting capabilities, additional integrations with Hach instruments and improved usability for configuring dashboards, input forms and variable lists.
"Today's water and wastewater facilities increasingly are asked to accomplish more with reduced resources as cost and regulatory pressures continue to increase," said Chuck Scholpp, director, integrated information management for Hach. "This latest version of Hach WIMS will help our customers meet new challenges and further streamline the entire operational lifecycle of their facilities."
Hach WIMS is a software platform designed specifically for water and wastewater utilities that enables them to be more efficient and strategic in their operations in order to provide the highest quality of service to the communities they serve. It provides real-time visibility and useful, actionable data related to all facets of a water and wastewater utility, allowing operators to optimize resources (facilities, supplies and people) and control costs. At an operations level, it automates manual tasks and time-consuming regulatory reporting functions, and helps manage the continuous change associated with local, state and federal regulations, energy consumption, economic conditions and the fluctuating costs for supplies, services and labor.
New features in Hach WIMS include:
Enhanced electronic reporting – for both wastewater and water operations, including enhanced California wastewater reporting and interfacing with the California Integrated Water Quality System Project. The software also provides more robust electronic reporting (eDMR) for states like West Virginia who have their own electronic reporting systems.
Additional interfaces with Hach instrumentation – continued additions to the portfolio of instrument interfaces like the Hach sc Controllers, HQ40D Meter / LBOD probe system The new interface to Hach's new DR3900 Spectrophotometer water analysis system captures not only the data value but also critical meta data that surrounds a data value.
Usability enhancements – new tools make Hach WIMS even easier to use with new wizards to quickly create dashboards, input forms and variable lists making system and user configuration easier and faster.
Hach WIMS 7.2 is an update to the existing WIMS software or for new customers can be purchased through an on-site license or a subscription Software-as-a-Service (SaaS) offering.