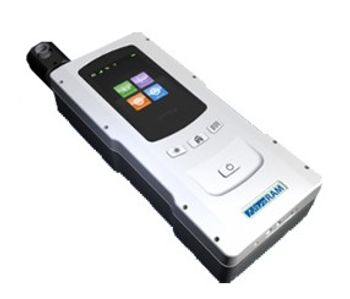 B&W Tek, Inc., an advanced instrumentation company producing optical spectroscopy and laser systems, is proud to introduce the NanoRam™, a new class of small, handheld instruments for materials identification and verification within cGMP compliant facilities. The NanoRam is a state-of-the-art compact Raman spectrometer and integrated computing system, based on an open systems architecture design that can support a broad range of applications in multiple industries. Designed for use by non-specialists, the NanoRam is easy to use and operates single-handedly.
Our initial goal for the NanoRam is to provide a solution to pharmaceutical customers who need to deploy instruments in volume among different sites, to efficiently analyze active pharmaceutical ingredients, excipients, and drug products as part of a LEAN manufacturing and quality process. The NanoRam allows rapid development of standardized and validated methods to facilitate 100% inspection for purity and quality, as mandated by government regulators within operational guidelines provided by US and international pharmacopeia. The enhanced utility of the NanoRam is expected to accelerate the adoption of handheld Raman for use in identifying counterfeit drugs, mitigating the multi-billion dollar impact on revenues for global pharmaceutical companies.
With the now accepted advantages of portable Raman spectroscopy, such as ease of sampling, on the spot analysis with no need for quarantine areas, highly selective peaks for both qualitative and quantitative analysis, and the ability to analyze both organic and inorganic compounds over a wide spectral range, the NanoRam reduces production costs and escalates productivity, all at the same time. Using USP certified samples, Raman spectral libraries are available for pharmaceutical materials and new spectra can be easily generated and added to existing libraries. Raman spectral libraries that have been created on other instruments can be transferred to the NanoRam platform using a library conversion utility.

The NanoRam is equipped with B&W Tek's patented CleanLaze® technology for exceptional laser stabilization and narrow linewidth. Other features include a spectral resolution below 10 cm-1, wide Raman shift coverage up to 3200cm-1, and a TE cooled 2048 pixel CCD array. Weighing less than 1.1 kg, the instrument's small, compact package, large OLED display, and low power consumption provides high quality Raman measurements and ease of use anywhere. The unit comes with a range of sampling accessories for gels, liquids, powders and solids.
"The NanoRam represents a new generation of small handheld tools for material identification and verification," says Dr. Mike Kayat, VP of Sales & Marketing for B&W Tek, Inc. "Rapid validation and deployment within cGMP facilities is made possible by the combination of near-laboratory grade Raman spectral analysis with a high performance PC-based environment that can communicate with ERP systems, together with validated methods and libraries within an open systems architecture. The NanoRam supports all aspects of quality by design and process analytical management for healthcare and pharmaceutical customers."
NanoRam customers will be able to take advantage of extended warranty plans, annual recertification services, assistance with method and/or new library development and other services such as assistance with IQ/OQ/PQ validation.