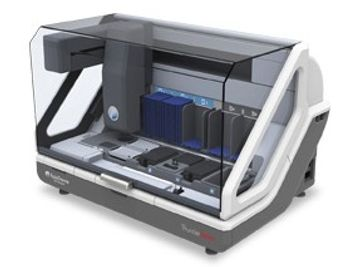 RainDance Technologies, Inc., the Digital Biology™ Company, announced the commercial launch of its groundbreaking new ThunderStorm™ System at the 12th International Congress of Human Genetics (ICHG) in Montreal, Canada. The ThunderStorm System is a fully automated high-throughput targeted sequencing solution that enables researchers to determine all variation contained in any region of the genome faster and easier than ever before.
The ThunderStorm System supports a wide range of sequencing applications, including candidate gene screening, Genome Wide Association Study (GWAS) follow up, deep sequencing of heterogeneous tumor samples, medical genetics and targeted methylation analysis. Last month, RainDance announced that Ambry Genetics has adopted the ThunderStorm System for its genetic testing and next-generation targeted sequencing research services.
"Powered by our proven droplet-based single molecule PCR technology, the ThunderStorm System delivers unprecedented daily sample throughput, automated walk-away operation and running economics that are significantly lower than any other commercial solution," said Roopom Banerjee, President and CEO of RainDance Technologies. "ThunderStorm provides customers an optimized platform and is production-ready for clinical research labs seeking a high-throughput screening and validation solution for their next-generation sequencing workflow."
The ThunderStorm System is a next-generation targeted sequencing solution that overcomes the limitations of traditional multiplex amplification and hybridization methods with increased accuracy and greater coverage uniformity. The system is capable of simultaneously generating millions of unique droplet-based single molecule PCR reactions for targeting disease-specific loci. With "walk-away" capabilities for automatically processing up to 96 samples per run, the ThunderStorm System offers higher daily sample throughput with lower costs and hands-on time when compared to current enrichment methods. Using the System's unique smart consumables, researchers can process two samples per chip and eliminate sequencing library preparation costs. The ThunderStorm System is also compatible with all next-generation sequencing platforms.