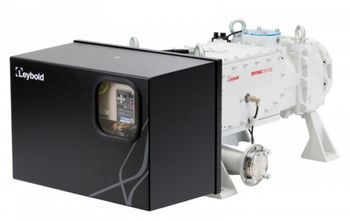 Screw design provides more performance and low energy consumption
Minimal maintenance effort
Thanks to their screw design with a specially adapted variable pitch, they work extremely efficiently due to their low power consumption, require minimal maintenance compared to oil-lubricated vacuum pumps and thus minimize operating costs. The robust screw vacuum pump is also characterized by high particle and condensate compatibility.
Consistently high pumping speed over the entire vacuum rangeAs a pioneer in dry vacuum technology, Leybold has several different screw vacuum pumps in its product portfolio. In contrast to oil-lubricated piston or rotary vane vacuum pumps, it offers a temporally stable pumping speed curve. The DRYVAC DV 200, 300, 450 and 650 portfolio has now been supplemented by the more powerful DV 800 and the highly energy efficient DV 500.

Significantly more performance
The DRYVAC DV 800 is based on Leybold's proven DRYVAC DV platform and sets a benchmark in this size class. The fact that the DV 800's dimensions are directly derived from proven DV 650-models makes changeover and integration easier for the user. The DV 800 opens up new possibilities for applications where a higher pumping speed is required. In traditional markets, this is the case in many applications, such load locks or packaging machines. In new areas, such as battery manufacturing, a higher process speed means cash for the customer.

Optional monitoring via a cloud platform
The DRYVAC DV 500 and DV 800 are equipped with an easily adaptable and networkable frequency converter and IE3 motors. Monitoring via a cloud platform can also be easily implemented on request and is available as standard from Q3. The compact and well thought-out construction of the DRYVACs enables a Roots vacuum pump RUVAC to be easily installed as a booster. The pump combinations DV 1200 and the new DV 1600 round off the portfolio for even higher pumping speed.