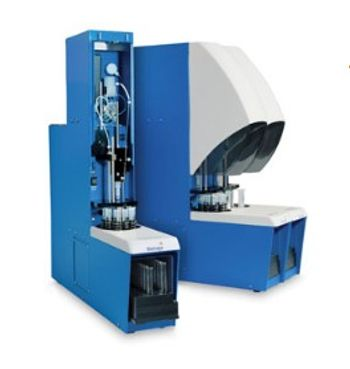 Biotage®, a leading manufacturer of tools and technology for analytical and medicinal chemistry, introduced the new RapidTrace ®+ SPE Workstation. RapidTrace+ is based on the widely accepted, industry standard RapidTrace platform. The RapidTrace+ is a robust, automated system for quickly developing rugged, reliable Solid Phase Extraction (SPE) methods in regulated pharmaceutical, clinical and forensic laboratories. The powerful, high-throughput system is dedicated specifically for SPE, eliminates bottlenecks and allows users the ability to realize the full benefits of today's powerful analytical instruments.
RapidTrace+ is fully compatible with 1, 3 and 6 mL SPE columns; offering the greatest flexibility to laboratory SPE formats, including all Biotage ISOLUTE® and EVOLUTE® products. Productivity is increased with a new 5 position rack for 40 mL scintillation vials, allowing for larger sample volumes to be processed. With the Delay Start feature, an operator can schedule specific start and completion times allowing them to return to freshly prepared extracts.
The modular design of the RapidTrace+ allows for up to 10 workstations to be linked and controlled by one computer. In its full modular configuration, these units can process up to 100 samples per hour. Customers have reported a 92% reduction in analyst time and a 72% reduction in extraction time for a 75 sample extraction, compared to a manual vacuum manifold. Modules within a group can process different methods independently, allowing a user to interrupt operation of one module while the remaining units continue to process.
Easy-to-use and intuitive software dramatically increases the speed and reduces the effort involved in method development. Methods are developed in minutes and recalled in seconds; with the ability to insert, delete or modify steps and easily adjust parameters. The methods stored in a RapidTrace+ may also be transferred to other workstations. Additionally, methods can be saved and run concurrently for true, unattended, "multi-method" sample processing.
"We continue to show our leadership in many areas, including sample preparation." says Toshiyuki Yachi, Vice President of Biotage Marketing. "Over the past several months, Biotage has introduced more tools, more products and more solutions than many of our competitors combined. With the capabilities of the new RapidTrace+, our ability to support customers in their endeavors is substantially improved and we will continue to bring innovative, useful and intelligent tools to support them in the future."
While advanced analytical techniques like LC/MS/MS and GC/MS are meeting the increasing demand for greater speed and specificity in toxicological screening, conventional sample preparation methods have not kept pace. SPE in particular is an essential step in the analysis of many biomolecules, and has become a throughput limiting factor in many laboratories. The new RapidTrace+ is a result of the collaboration with professionals trying to address this situation.