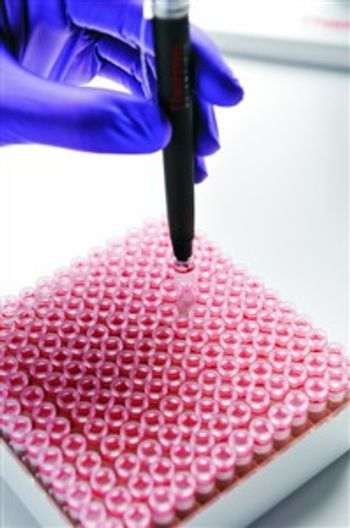 Thermo Fisher Scientific Inc., the world leader in serving science, today introduced the Thermo Scientific Dense Storage system for low-temperature storage of biological samples and solutions. The system combines 1 mL Thermo Scientific Nunc CryoBank tubes with the new 13 x 13 tube dividers and Nunc™ CryoBoxes. This novel Dense Storage format effectively doubles existing storage capacity, which can reduce costs by up to 50 percent while decreasing energy use. The company showcased the Dense Storage System during Biotechnica 2011.
Many laboratories store samples as aliquots of 1 mL or less in 2 mL tubes. By using the space-efficient 1 mL Nunc CryoBank tubes and Nunc CryoBoxes with tube dividers, users can instantly double their freezer capacity without taking up more lab space. Standalone tube separators can also be retrofitted to existing CryoBoxes for additional flexibility. Optional 2D barcodes on the Nunc CryoBank tubes enable precise tracking and traceability. To facilitate quick and easy manual handling, the Thermo Scientific CryoBank Picker Pen has been designed to fit into the top of each tube to uncap or move it between racks. It also doubles as a ballpoint pen.
The complete Thermo Scientific low-temperature storage portfolio consists of CryoBank tubes, CryoBoxes, replacement dividers, a Picker Pen and the Thermo Scientific Revco UxF ultra low temperature freezers. The new Dense Storage format and Revco® UxF freezers allow laboratories to further increase capacity and require a smaller footprint than previous Revco models.