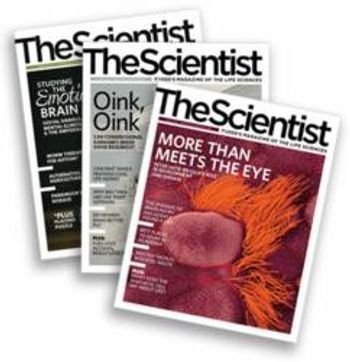 Recently The Scientist Magazine became part of the LabX Media Group and today I am happy to announce and congratulate The Scientist for earning Folio Gold for Top Editorial.
LabX Media Group is pleased to announce that The Scientist magazine re
ceived five 2011 Folio Awards for editorial excellence. For the second year in a row the magazine garnered gold in the Business to Business/Science category, single issue, for the July 2010 issue. The magazine also received a silver award in the same category for its June 2010 issue. Also for the second year running, Senior Editor Bob Grant won gold (B-to-B, Science, Single Article) for his feature, "Opening a Can of Worms," which appeared in the February 2011 issue. Correspondent Megan Scudellari received bronze award for her July 2010 feature article, "Brain, Interrupted." The magazine also won a silver award for Best Online News Coverage, B-to-B, for its 3-part series, "Fallout at Fukushima."
The Scientist is published by LabX Media Group, which acquired the magazine from Sciencenow, Inc. a member of the Science Navigation Group, on October 21, 2011.
ABOUT LABX MEDIA GROUP
LabX Media Group is a fast-growing business-to-business publishing company serving the scientific research market with four primary business units including: The Scientist, Lab Manager Magazine, LabX.com, and LabWrench.com