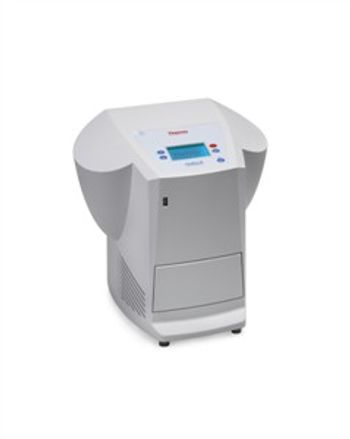 Thermo Fisher Scientific Inc., the world leader in serving science, today introduced its Thermo Scientific PikoReal Real-Time PCR Systems, which complete its molecular biology workflow. Available in 24- and 96-well formats, the PikoReal offers outstanding performance in a small bench-top footprint.
The uniqueheating block design of PikoReal systems maintains excellent temperature uniformity and fast heating and cooling for optimal amplification. The proprietary ultra-thin wall (UTW®) Piko PCR plates minimize running costs, plastics waste and energy consumption. Although these plates are a quarter the size of standard plates, their well volumes and spacing ensures compatibility with multichannel pipettes and liquid handling instrumentation. Finally, PikoReal systems use half the power of typical real-time PCR instruments and consume less reagent, providing a cost-effective and environmentally friendly option for personal bench-top or field use.
The combination of the unique heating block and UTW Piko consumables ensures data uniformity for more reliable and repeatable results. The built-in optical system of the PikoReal contains five channels, pre-calibrated for the most common dyes, so users can perform multiplexing with four dyes while dedicating the fifth channel to SYBR Green and HRM experiments.
The instruments are controlled by PikoReal software, which enables absolute and relative quantification, melting curve analysis and genotyping. Systems can also be used as stand-alone by transferring an amplification protocol from PikoReal Software to the instrument using a USB stick. The software also uses a Virtual Pipetting Tool™ that guides users through plate setup.
Thermo Fisher provides a comprehensive portfolio of products for nearly all real-time PCR applications. Customers can obtain everything required for a complete molecular biology workflow, including reagent kits for SYBR Green and probe chemistries, as well as instruments and equipment for sample storage, DNA/RNA extraction, analysis, amplification and liquid handling.