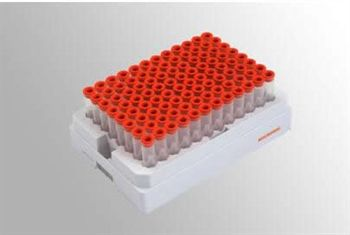 Designed to seal sample storage tubes in the 96-well format - the Micronic capping system offers biobanks and biorepositories the ability to securely cap a single tube, a row of tubes or to apply 96 caps in a single action.

With the launch of the new orange Capcluster - caps are now available in 13 different colours, providing a simple, yet effective means of visually differentiating stored samples by person, project or even by the type of sample submitted (blood, urine, plasma etc.).

Available for use with a wide range of tube volumes (0.50ml, 0.75ml, 1.10ml, 1.40ml, and 2.50ml) - Micronic Capcluster caps are made of a USP Class VI certified thermoplastic elastomer (TPE) that acts as an excellent vapour barrier for both water and DMSO. Use of a retaining foil makes simultaneous secure capping of a single tube, row of tubes or 96-tube rack both quick and easy. The multi-pierceable design of Capcluster TPE caps allows samples to be accessed without removing caps thereby ensuring long-term sample integrity. In addition, Capcluster TPE caps have high solvent resistance that, in combination with ultra low extractable materials, eliminates the possibility of sample contamination from the tube cap. Used in storage facilities worldwide Micronic Capcluster TPE caps are proven to maintain a strong and secure seal at temperatures down to -80°C.

Whether applying caps manually to tubes or using an automated capping system, Micronic Capcluster TPE caps provide maximum sample integrity for long term storage. Used manually or with an automated capping system, Capcluster offers considerable productivity benefits over alternative tube capping products.

Dedicated to the design and production of innovative sample storage tubes, accessories and instruments over the last 25 years, Micronic is uniquely able to offer laboratories the expert advice to help them safeguard one of its most valuable assets - its samples.