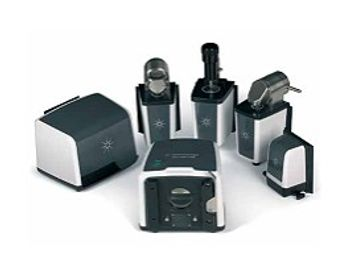 Agilent Technologies Inc. today introduced the Cary 630 Fourier transform infrared spectrometer, offering outstanding performance and reproducibility for routine laboratory analysis of solids, liquids and gases. In addition, the new instrument is the smallest and lightest FTIR spectrometer on the market, creating a significant decrease in the instrument's footprint in the laboratory.
Designed with customer applications in mind, innovative sampling accessories slide in and out in seconds, with no alignment required. Intuitive software allows even novice users to accurately analyze samples in just seconds. The Cary 630 FTIR removes the need to use a liquid transmission cell through Agilent's unique liquid sampling technology, the DialPath and TumblIR.
"Agilent is all about improving customer workflow and providing solutions that will save time and money," said Philip Binns, Agilent vice president for spectroscopy products. "The Cary 630 FTIR will change the way our customers approach measuring samples. It provides exceptional value, performance and usability all packed into the smallest instrument available in the market."
Ideal for QA/QC in the chemical and pharmaceutical industries, the Cary 630 FTIR is also well suited for academic research and teaching labs. The intuitive, multi-language software guides users through every step of operation, while color-coded alerts make it easy to see whether samples meet specification.
For customers in the pharmaceutical industry, the Cary 630's software is fully 21 CFR Part 11 compliant.
Dimensions of 16 x 22 x 13 cm make it the smallest and lightest FTIR on the market.