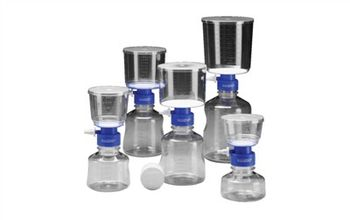 New 1-Liter Unit Offers Rapid, High-Capacity Filtration of Cell Culture Media
Thermo Fisher Scientific Inc.,the world leader in serving science, has expanded its Thermo Scientific Nalgene 0.1 Micron PES Filter line with a new 1-liter unit, offering customers the broadest size selection on the market for 0.1 micron vacuum filtration of cell culture media to prevent mycoplasma contamination. The new unit incorporates a large 90 mm diameter membrane and a proprietary Rapid-Flow™ membrane support plate to facilitate rapid, high-capacity filtration rates. The Nalgene® PES 0.1 micron filter unit is ideal for use in academic, pharmaceutical and biotechnology cell culture labs.
Along with the new 1-liter unit, the Nalgene 0.1 micron PES filters are also available in 150 mL, 250 mL and 500 mL capacities. By choosing the ideal filter size for their application, customers can reduce costs, save storage space and avoid waste.
The Nalgene 0.1 micron PES units effectively filter media and buffers to protect against a loss of culture viability due to contamination, particularly mycoplasma contamination, which can destroy valuable cell cultures. While sterile techniques and routine testing reduce contamination, 0.1 micron final filtration provides an enhanced level of protection. Additionally, the filters' low protein-binding PES membrane reduces the potential for removing critical components from the media during filtration, and low extractable levels ensure that the solution remains unchanged. Built to the well-known Nalgene quality standards, the guaranteed leak-proof filter bottle cap maintains the pH of filtered media.
The Thermo Scientific Nalgene 0.1 micron PES filter units provide the last line of defense against mycoplasma contamination while offering enhanced flow capabilities in a broad volume range.