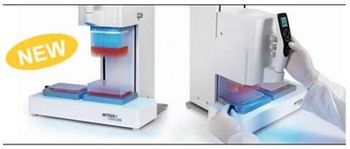 INTEGRA has announced that it will be displaying a broad range of its latest liquid handling products at SLAS 2012 - one of the world's largest laboratory automation and screening trade shows and congresses.

Visitors to Booth 328 will have the chance to see and discuss INTEGRA's complete range of liquid handling products including a new multifunctional rapid reagent dispenser, aspiration systems, peristaltic pumps and electronic pipettes.

At this important event INTEGRA will launch the VIAFILL™ - a ground breaking new product that delivers high performance bulk reagent dispensing, multichannel pipetting and microplate washing capabilities all from a single multipurpose instrument.

For labs looking for an affordable way to increase their liquid handling productivity the VIAFLO 96 is a 96-channel handheld electronic pipette that enables fast, precise and easy simultaneous transfer of 96 samples. The VIAFLO 96 has been designed to be used just like a standard handheld pipette. Therefore, no special skills or training are required to operate it. The highly intuitive Touch Wheel™ user interface enables simple and fast programming of a wide range of pipetting modes including repeat dispense, serial dilute and sample dilute. Users will also immediately benefit from the increased productivity delivered by their VIAFLO 96. Fast replication or reformatting of 96 and 384 well plates and high precision transferring of reagents, compounds and solutions to or from microplates is now as easy as pipetting with a standard electronic pipette into a single tube.

Also on display will be INTEGRA's complete range of VIAFLO electronic and manual pipettes, a new version of DOSE-IT peristaltic pump plus the VACUSIP - an out-of-box vacuum aspiration system for the wide array of liquid waste disposal tasks carried out at the laboratory bench.