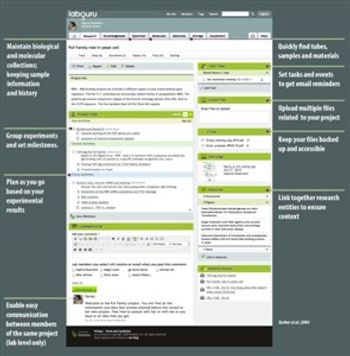 BioData Ltd., a scientific software company funded by Digital Science, a division of Macmillan Publishers, today launched Labguru, a research management tool designed for academic labs. Labguru's customizable and affordable web application helps researchers plan experiments, track progress, share results and comments, manage inventories, and organize related documents, protocols and data.
"Labguru helps researchers, principal investigators and lab managers see the big picture of their research without losing sight of the details vital to scientific discovery," says Jonathan Gross, Founder and Co-CEO of BioData.
Labguru is an intuitive web-based interface and email alerts service that helps improve the way researchers:
§Plan experiments
§Track research progress on current projects and long-term goals
§Annotate key results, figures, protocols, and papers
§Build research context by linking papers with protocols, notes, specimens and other key data to facilitate planning, paper and thesis writing
§Find the location of specific reagents and samples anywhere in the lab
§Prevent inventory shortages, duplicate orders, and missed expiration dates
§Schedule use of shared equipment
§Retain knowledge as lab members leave
Labguru is free for individual use. Individuals and labs can access additional sophisticated collaboration, order management, and equipment scheduling features for a nominal monthly fee.
Dr. Eli Lewis, Principal Investigator and Senior Lecturer in the Department of Clinical Biochemistry at Ben-Gurion University of the Negev, praises Labguru for fostering scientific thinking. "I found a paper that discussed a cell type one student was working on and a chemical another was studying and then linked those two students to the paper. One of the students linked it to another student and, in a few hours, a comment thread grew in Labguru as if we were having a mini-conference."
"I enter projects and milestones that form my long-term vision for the lab," says Anat Ben-Zvi, PhD, Principal Investigator in the Department of Life Sciences at the National Institute of Biotechnology in the Negev at Ben-Gurion University of the Negev. "All lab members can now understand each experiment in context. We can also connect papers to projects and highlight where we sourced some reagent, gene or idea. For each strain we use, Labguru connects all the needed information for experiments, storage, and ordering from either public databases or data that we previously entered. That saves us quite a bit of time."
"Many Labguru users say their workdays are again the way they should be: fun. Instead of slogging through dull daily management tasks, they spend more time on research and collaboration," says Gross.
Labguru improves upon the most useful features and workflows in both LabLife, software for laboratory organization that BioData recently acquired, and BioKM, BioData's prior tool for research collaboration. Researchers currently using these tools can continue to do so through 2013 and receive personal assistance when they migrate to Labguru.