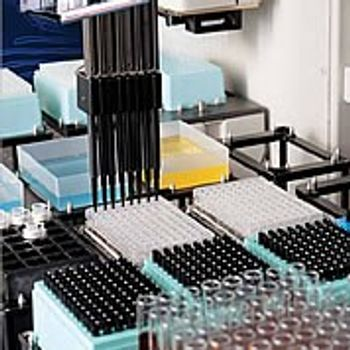 Fine Point Tip Design Enables Efficient Transfer of Small Volumes
New Span-8 P50 Conductive Pipette Tips have been introduced by Beckman Coulter, Inc. to complement their existing P50 Non-Conductive Tip line. Both conductive and non-conductive tips provide access into deep and narrow labware such as Microfuge tubes, 1.4 mL storage tubes and deep-well plates. The tips feature a fine point that facilitates efficient transfer of the small sample volumes characteristic of assay miniaturization and are offered for use on the company's Biomek* Laboratory Automation Workstations.

The new P50 Conductive Pipette Tips take advantage of the liquid-level sensing technology in Biomek workstations. Developed for applications in which volumes are not always known or specified, this feature is especially useful when pipetting from tubes containing saliva or blood samples from a variety of sources. It allows pipetting from the top of the liquid rather than the bottom of the tube or plate, which reduces the tip's exterior wetted surface, thereby minimizing cross-contamination and conserving valuable samples.

"Validated Biomek P50 Pipette Tips from Beckman Coulter are an important component of the total system solution for applications such as qPCR and sample preparation for next generation sequencing," noted Jerome Lim, product manager at Beckman Coulter. "Using validated components in an automated system — from hardware and software to consumables — is key to generating high-quality, repeatable assay results."

An import file containing tip definitions, pipetting techniques and templates provides validation support and helps optimize efficiency. Tip information is automatically populated in the Biomek's labware library. Tip-rack colors are captured in software, speeding method development by minimizing potential errors in tip selection and Biomek deck set-up.
Made using 100 percent premium-grade virgin polypropylene, the tips are manufactured in a controlled environment to stringent specifications. Samples are tested for biological certifications and statistical process-control product sampling is conducted. Provided in environmentally responsible packaging, the tips can be purchased through www.beckmancoulter.com.