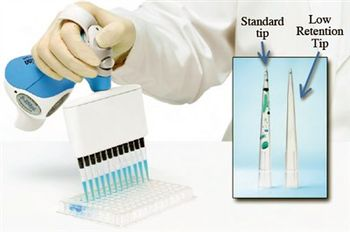 Unique polymer technology used in tips for Ovation and MLA pipettes
VistaLab Technologies, Inc. has expanded the tip offering for its Ovation and MLA product lines with additional products that include a unique treatment which makes pipette tips extremely liquid repellent. While not always visible, standard pipette tips have properties that cause surface binding – in other words, droplets or a thin film of liquid often remains in the pipette tip after dispensing. In many applications, even trace amounts of missing sample can affect experimental results.
The new tips with VistaLab Low Retention Polymer Technology are an ideal choice for situations where less fluid retention is desired. Filtered and unfiltered tips are available in a variety of volumes, as well tips that are sterile and certified for RNase/DNase and Pyrogen-free requirements.