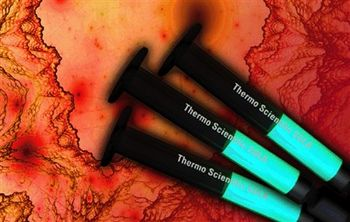 Thermo Fisher Scientific Inc., the world leader in serving science, today launched its new range of Thermo Scientific SOLA solid phase extraction (SPE) cartridges and plates. Using a proprietary design and manufacturing technique, SOLA™ combines polyethylene frit materials and stationary phase components into one, uniform entity. As a result, these cartridges and plates deliver superior reproducibility, recovery and sensitivity and reduce the levels of contaminants and extractables within the sample eluate.
The uniform stationary phase of SOLA cartridges and plates is a significant advancement on traditional SPE formats, in which loosely packed, powdered silica or polymeric materials are positioned between two polyethylene frits. This new, robust design eliminates issues such as voiding, channeling and packing inconsistencies.
SOLA cartridges and plates have extensive applications in the extraction of valuable analytes for high-throughput bioanalytical and clinical analyses, where reproducibility, sample purity and sensitivity are essential. Available in both cartridge and 96-well-plate formats and with SOLA (reverse phase), SOLA CX (mixed-mode cation exchange) and SOLA AX (mixed-mode anion exchange) stationary phases, SOLA is optimized for high-throughput, highly reproducible sample preparation.
Further information about the Thermo Scientific SOLA SPE cartridges and plates please visit www.thermoscientific.com/sola-spe.