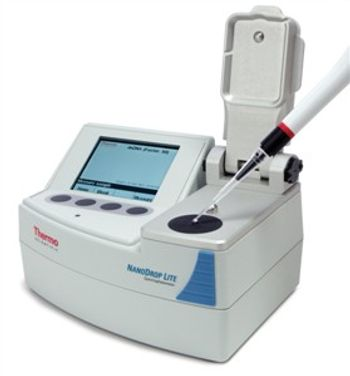 Thermo Fisher Scientific Inc., the world leader in serving science, today announced the Thermo Scientific NanoDrop Lite, a compact, personal UV-Vis microvolume spectrophotometer that complements full-featured NanoDrop™ 2000/2000c and NanoDrop 8000 instruments. The new instrument is small enough to fit in a drawer, but powerful enough to help accelerate life science workflows related to sequencing, PCR/qPCR, protein isolation, antibody production, HLA typing and other applications. Thermo Fisher is debuting NanoDrop Lite during the International Plant & Animal Genome XXconference, January 14-18, in San Diego.
While NanoDrop Lite is designed with fewer features than the 2000 or 8000 series, it delivers where it counts: rapid, accurate and reproducible microvolume measurements without the need for dilutions. It uses the same sample retention technology that has become a hallmark of NanoDrop instruments and surfaces can simply be wiped clean between samples. Features include local control and an optional docking printer (sold separately) that prints freezer-compatible, adhesive labels, offering even more convenience in the lab.
Customers familiar with the accuracy and reproducibility of NanoDrop spectrophotometers will appreciate how the new Lite version fits into a typical laboratory workflow. Researchers can obtain full spectral data on a NanoDrop 2000 or 8000, but perform more routine measurements on a NanoDrop Lite, reducing laboratory bottlenecks and increasing productivity.
"If our customers could have a NanoDrop on every bench, they would," said Reinhold Mischau with PEQLAB Biotechnologie GmbH. "NanoDrop Lite is the next best thing, however. Sharing or borrowing an instrument, especially when all you need is a quick measurement, is frustrating. Those days are over."
The NanoDrop Lite can measure nucleic acid and protein concentration in sample sizes between 1.0 and 2.0 µL and can measure 260/280 ratios for nucleic acids.