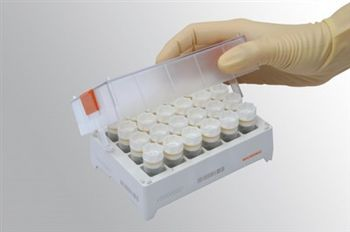 Durably constructed the thick-walled Arctic Rack-24 from Micronic is a new rack and cover enabling high integrity sample storage at ultra low (cryogenic) temperatures over extended periods of time.

The Arctic Rack-24 is purpose designed to accommodate twenty four high volume (6.00ml or 7.50ml) Micronic storage tubes in an automation-friendly SBS** footprint. A special cover enables the Arctic Rack-24 to be securely locked ensuring high sample security during transport or storage.

The Arctic Rack-24 may be autoclaved several times providing considerable cost savings over consumable sample storage products. Absolute traceability and reproducibility on the Arctic Rack-24 are ensured through alphanumeric visual location aids and laser engraved barcodes on 2 sides of the rack plus rack foot mounting points. The open bottom design of the Arctic Rack-24 facilitates quick defrosting of samples. To conserve valuable storage space within freezers or when transporting the Arctic Rack-24 with covers are stackable. Opening is achieved by simply moving the locker at each end of the cover downwards then squeezing upwards.

All Micronic racks and tubes are manufactured under US Federal Standard 209E Class 7 clean room conditions. Dedicated to the design and production of innovative sample storage tubes, accessories and instruments over the last 25 years, Micronic is uniquely able to offer labs the expert advice to help them safeguard one of their most valuable assets - their samples.