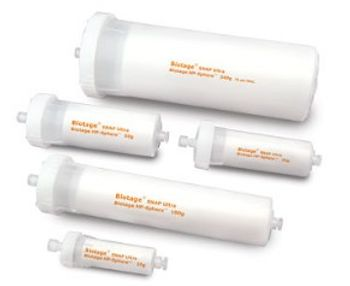 Biotage, a leading global supplier of solutions and technology for analytical and medicinal chemistry, introduced the new Biotage ® SNAP Ultra high performance flash chromatography cartridges utilizing Biotage® HP-Sphere™ spherical silica. Biotage ® SNAP Ultra is available in a wide range of sizes from 10 g – 340 g.
Biotage® HP-Sphere™ is chromatographically tested proprietary silica with 40% more surface area than previously available flash silica in the same high performance category, improving loading capacity and providing superior separation of eluting compounds. The precision engineered Biotage® SNAP Ultra cartridges combine industry leading resolving power, universal plug and play compatibility, and lower back pressures resulting in the highest performing flash chromatography cartridges available.
A researcher can load twice the amount of sample on a Biotage® SNAP Ultra cartridge than they can on an equal sized cartridge from other suppliers, enabling chemists to utilize cartridges half the size of those normally used. Using a smaller, higher surface area cartridge saves time and uses less solvent. Less solvent also means less cost per separation and less waste. And consistent with the SNAP family, a removable cap allows for simple internal sample loading for liquid and dry samples further improving purification performance.
Biotage® SNAP Ultra cartridges and Biotage® Isolera™ flash purification systems integrate seamlessly to produce better separations and pure compounds on the first attempt. Luer lock inlet and outlet ports also ensure the most reliable connection to Biotage® Isolera™ systems, and any other flash chromatography system on the market.