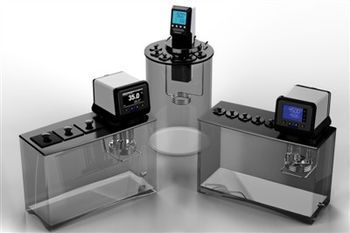 A line of viscosity baths designed to accommodate specific testing and quality control needs, including ASTM D-445, is now available from PolyScience. Configured for use with most popular capillary viscometers, these versatile circulating baths feature working temperatures up to 135°C, temperature stabilities to ±0.01°C, and a choice of glass or polycarbonate reservoir. Four different controller types – from an innovative touch screen model with time/temperature programming capability to an extremely affordable digital temperature controller – are available. All models include a tap water cooling coil.
The company's Polycarbonate Viscosity Baths feature a 29 liter rectangular reservoir with a working depth of 11.25 inches (28.6 cm), square or round viscometer openings, and may be equipped with PolyScience's Advanced Programmable, Advanced Digital, or Standard Digital Temperature Controller. The maximum working temperature for these baths is 85°C.
PolyScience Glass Viscosity Baths are available with either 17 or 27 liter round reservoirs and are equipped with the MX Temperature Controller. These baths feature round viscometer openings, working depths of 11 inches (27.9 cm) and 17 inches (43.2 cm) respectively, and have a maximum working temperature of 135°C.