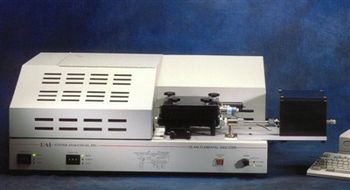 Developed by Exeter Analytical Inc. for use with the Model 440 Elemental Analyzer - Linear Regression Plus is a unique software algorithm that provides unmatched accuracy in the determination of the nitrogen content of combustible samples.

Created from the experience of leading experts in elemental microanalysis - Linear Regression Plus both improves data quality and reduces the time taken to accurately determine the nitrogen composition of samples. The software capability is available as standard on all new Exeter Analytical Model 440 Elemental Analyzer's or as a free-of-charge upgrade to existing users of Model 440 Windows based software.

Data is available on request from Exeter Analytical on tel. +1-978-251-1411 (+44-2476-323223 in Europe) or email sales@eai1.com demonstrating how the unique software algorithm is able to automatically optimize nitrogen measurements, with improved operational accuracy and precision across the entire analytical range.
The Exeter Analytical Model 440 is a fully automated CHN elemental analysis system. Intuitive Windows based operating software reduces human errors through incorporation of extensive automation, comprehensive customer help and diagnostic facilities.
Designed to give accurate, reliable results, over the widest range of sample types presented for analysis the Model 440 is proven to deliver unmatched operating accuracy and precision. The Model 440 uses thermal conductivity detection to measure Carbon, Hydrogen and Nitrogen, after combusting and reducing a sample. Inherently more stable than gas chromatographic based systems the Model 440 delivers superior performance and sampling precision over a very wide range of elemental content. Horizontal sample injection enables automatic removal of sample residue after each analysis, avoiding memory effects and gas flow problems. Low gas and reagent consumption combined with higher reduction tube life allows the Model 440 to deliver the lowest operating costs of any CHN elemental analyzer available.