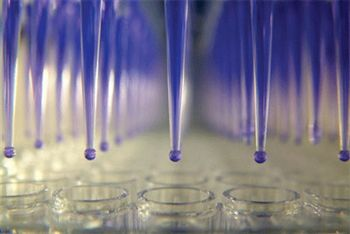 Liquid handling systems play a crucial role within the lab, especially where a large amount of sample analysis is required on a daily basis. They help reduce the amount of time it takes to get the results you need. To keep up with the demands of today's modern laboratories, a new concept has become increasingly popular; Automated Liquid Handling. These systems can produce smaller volumes and provide lower error rates as they feature no-contact dispensing.
INTEGRA Biosciences has recently announced VIAFILL, their new multipurpose liquid handling system that delivers high performance bulk reagent dispensing, multichannel pipetting, and microplate washing capabilities all from a single multipurpose instrument. To receive all new updates from Integra Biosciences, add them to your 'My Bench Communities' by clicking here.
Hamilton Robotics has also introduced the MICROLAB NIMBUS, a new multifunctional workstation that enables gripper movements and a range of pipetting capabilities for tubes and plates within a secure environment. Make sure you bench the MICROLAB NIMBUS so you don't miss out on all the news feeds and updates for this exciting new product.
Feature question on Automated Liquid Handling;
Posted by: MrPipeter
Message: The NxP boasts its "repeatable" pipetting. Can it draw a large volume and dispense smaller volumes to plate wells without redrawing?
To reply to this post or to see the answer, click here
Have lab equipment questions? LabWrench provides answers.
To view all questions or make your own post on LabWrench, join our community forums and choose from equipment, manufacturers, or categories to add to your bench today!
Zoe Gillan
Product Research Coordinator
LabX Media Group