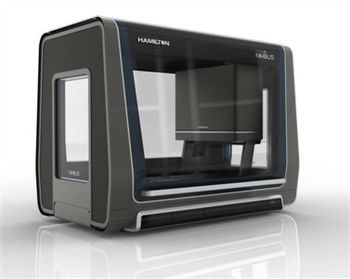 Hamilton Robotics introduces MICROLAB NIMBUS Enclosed at SLAS 2012 - a protected, multifunctional benchtop workstation that enables gripper movements and a range of pipetting capabilities for tubes and plate within a secure environment. The NIMBUS Enclosed accommodates either the Hamilton CO-RE (compressed O-ring expansion) 96-probe multichannel head or four independent 1 mL channels, all within a locked cover. The new enclosure design includes rear expansion and side integration bays for storage and third-party devices. An optional gripper arm handles single or stacked plates, lids and tip racks. The arm's extended reach and 270-degree rotation allow seamless integration with devices on and off the workstation deck.

This is Hamilton's second-generation NIMBUS enclosure, now accommodating the 96-channel head and gripper movements. The first version, shown at LabAutomation last year, generated feedback that was incorporated into the new design.

A clean pipetting environment minimizes risk of inadvertent contamination and is valuable in a range of applications such as sample preparation for cell culture and cell-based assays and for DNA and RNA amplification setup. The MICROLAB NIMBUS platform delivers a high-density deck in a compact footprint, for easy benchtop positioning. The affordable system utilizes the same proprietary air displacement technology that is built into all Hamilton STAR workstations, delivering the highest levels of pipetting performance and accuracy.