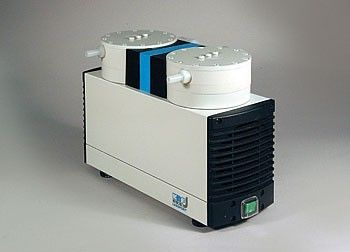 KNF LABOPORT® corrosion-resistant vacuum pumps are the ideal solution for a wide variety of laboratory applications involving rotary evaporation, vacuum ovens, and gel drying, among others. These compact diaphragm pumps universally integrate premium corrosion-resistant PTFE wetted parts for added protection and longer service life; tough, condensate-resistant multi-port FFPM valves; and durable PTFE-bonded diaphragms. All pumps benefit from using no pump oil, operate without maintenance or water requirements, and perform quietly and reliably, even when continuously running corrosive solvent vapors. Their compatibility with all brands of rotary evaporators, concentrators, and vacuum ovens expands application potential.
This series of LABOPORT pumps offers practical alternatives to oil-lubricated pumps, water aspirators, piston pumps, and house vacuum. They are lightweight and portable to allow users to easily move the pump wherever a vacuum is required. They can handle most aggressive vapors and can tolerate occasional condensate and other abuse typically encountered in busy labs without damage, especially those found in academic environments. Pumps quickly connect to systems using a vacuum hose without using tools.
Depending on model, these pumps can achieve flow rates to 60 L/min and generate vacuum to 1.5 Torr (29.9 in.Hg).