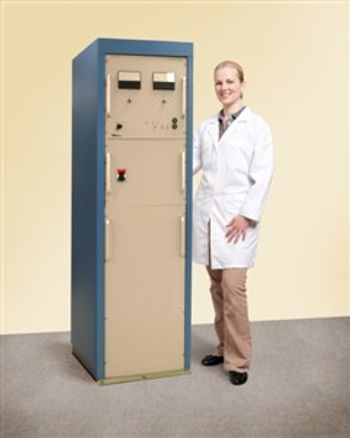 A compact, highly reliable, solid-state high voltage DC power supply that eliminates the need to parallel smaller power supplies and is suitable for a wide range of industrial and research applications is available from Diversified Technologies, Inc. of Bedford, Massachusetts.
The HVPS Series Switching Mode Power Supply is a fully integrated solid-state unit that provides 10 to 100 kV adjustable output at power levels up to 200 kW. Eliminating the complexity involved with connecting and controlling several smaller switching power supplies, this compact DC power supply has demonstrated over 100,000 hours mean-time-between-failures.
Configured to user requirements, the HVPS Series Switching Mode Power Supply is packaged in a 24"W x 36"D x 74"H cabinet and uses tap water for cooling. Featuring > 0.1% ripple and regulation with << 10 joules stored energy, depending upon configuration, it offers full over-voltage and over-current protection up to +30% or preset to ±0.1% max. ripple.
The HVPS Series Switching Mode Power Supply 200 kW version is priced from $125,000.00 with custom configurations available. Price quotations will be provided upon request.