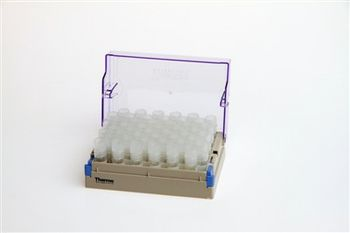 Thermo Fisher Scientific Inc., the world leader in serving science, today announced its new Thermo Scientific Universal Latch Rack for use with 2 mL and 5 mL Thermo Scientific Nunc Cryobank tubes as well as most standard Thermo Scientific Nunc and Nalgene cryogenic tubes. The new rack enables easy and ergonomic tube storage and incorporates a highly flexible lid, which can pivot or be lifted off, making it suitable for handheld pipetting as well as automated dispensing via robotic picking and placing. As a result, users have the ability to switch between manual and automated formats while protecting samples from the surrounding environment.
Unlike other racks that lock tubes in place, making it difficult to robotically pick and place them effectively, the non-locking design of the new universal latch rack is automation friendly. Furthermore, a latch locks the lid in place, providing safe, stackable and secure storage to maximize freezer space with 48 tubes per rack for internally threaded caps or 24 tubes per rack for externally threaded caps. This novel format is also compatible with the complete portfolio of Thermo Scientific sample-tracking and storage equipment, including handheld and automated decappers as well as 2D barcode readers, allowing customers to create a fully integrated and traceable cold storage workflow.
The universal latch rack retains several of the proven features of the original 2 mL and 5 mL Cryobank rack, including an ANSI standard microplate footprint, open bottoms for 2D barcode readability and strategically placed automation orientation detection features. As a result, the universal latch rack is ideal for any laboratory storing biological, genomic or diagnostic samples at low temperatures.