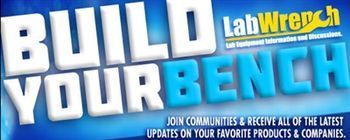 The My Bench Communities are here! When browsing LabWrench you will come across these symbols (
,
,
) and the option to "bench" products, categories, and even manufacturers. This will allow you to tailor your LabWrench profile to your specific interests while receiving updates, articles, news feeds, and discussion activity on the areas that you've benched.
Add specific lab equipment and instruments that you use within your lab. Ask questions and provide answers to interact with other scientific professionals
Receive the latest news and information on product categories. Interested in new technologies? You can join any category listed on LabWrench and receive daily or weekly alerts.
Interested in hearing the latest news from your favorite manufacturer? You can now add them to your "MyBench" as well!
Features

Access to discussions, resources, news, and more
Receive notifications on categories, equipment, and manufacturers
Manage your communities on your My Bench page

Benefits

No more searching to find the updates you are looking for
Be one of the first to receive all the latest news and notifications
Easy access to your chosen communities
Click here to register for LabWrench and get started on building your My Bench Communities today!
Zoe Gillan
Product Research Coordinator
LabX Media Group