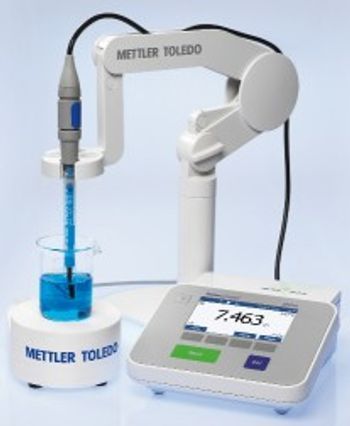 METTLER TOLEDO is pleased to introduce SevenCompact™, a new line of benchtop meters for measurement of pH, ion concentration, ORP or conductivity. SevenCompact™ features two new universal meters that fulfill analytical requirements in any industry and in a wide range of workplaces.
SevenCompact™ pH/Ion S220 – a multi-language benchtop meter for pH/ORP/ion measurements with Intelligent Sensor Management (ISM®) and five-point calibration. The Ion Mode with eight pre-programmed ion species makes this meter much more than a pH meter; it's two meters in one.
SevenCompact™ Conductivity S230 – a multi-language benchtop meter for conductivity/salinity/TDS/resistivity/Conductivity Ash with ISM®. In addition to covering standard conductivity applications, the S230 is designed to fulfill special regulations of segments that include microelectronics, bioethanol and sugar.
SevenCompact™ sets new standards in pH, ion and conductivity measurement:
Intuitive and Clear – The new S220 and S230 meters are easy to operate; menu guidance is available in 10 different languages and operation is intuitive as to not require training or a user manual. They feature a 4.3 inch color display with well arranged icons, making relevant information identifiable at a glance.
Revolutionary Viewing Function for Workflow Support – Two display layouts are available with the SevenCompact™ benchtop meters. Users can select the full-information screen with all parameters and settings shown, or switch – by a single key press – to the uFocus™ Screen Layout. The uFocus™ view hides ancillary measurement data and the results are shown in a larger font.
Efficient and Ergonomic – SevenCompact™ is delivered with the uPlace™ Electrode Holder. The uPlace™ electrode arm can be operated with one hand and has complete vertical movement, bringing the electrode into the position it works best for sample measurement. This allows for faster measurements and reduces the risk of the sample vessel tipping over and/or damage to the sensor.
Extensive Security Functions – The security functions are manifold: set measuring alarm limits, apply PIN code protection, use of routine / expert mode, ISM® and more. These versatile functions provide peace of mind and help labs maintain GLP compliance.
The connectivity and peripheral options exceed expectations to this class of meter: printer, magnetic stirrer, keyboard, barcode scanner and USB memory stick for data export are all options. SevenCompact™ brings the successful Intelligent Sensor Management (ISM®) – now known from SevenGo pro™ handheld instruments – into the lab. Mistakes are avoided, and quick and easy operation of the equipment saves time. The new extensive ISM® functions support the user in many ways:
Correct identification of the sensor is guaranteed upon connection to the meter. Sensor type and serial number is automatically recognized.
Calibration data, including date and time, is stored on the sensor. This eliminates mistakes when transferring the sensor to another instrument. Extra security is achieved by only using the most recent calibration for all subsequent measurements.
Extra security functions like checking calibration history or maximum temperature to which a sensor has been exposed help maximize the uptime of your equipment. Factory calibration certificates may be re-printed if lost.