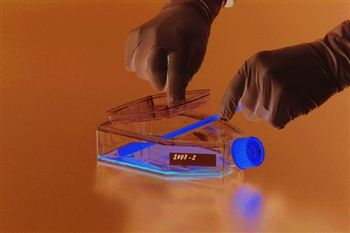 Tissue culture flasks in the TPP line offer a uniform, flat growth surface and allow complete interior access. Distributed in North America by MIDSCI, the flasks promote the highest levels of growth and retrieval for both adherent and suspension cells, reduce media and labware costs, and enable consistent and reproducible experimental results.
Cells grown on truly flat surfaces form more consistent monolayers at every passage. One hundred percent of the floor in TPP flasks goes to cell growth, which reduces media waste and conserves space in the incubator. Complete interior access enables better washing and scraping of cells and retrieval of the entire sample.
Molded vents and feet promote airflow between flasks, providing more uniform temperatures and CO2 disbursement and reducing condensation. Less condensation means flasks can be placed on a microscope and viewed upon removal from the incubator, limiting exposure to the lab environment.
MIDSCI's TPP standard tissue culture flasks are available in 25, 75, 150 and 300 cm2 volumes. Flasks with either a peel-off or replaceable plastic lid are offered in 115 and 150 cm2 volumes and providean ideal solution for such applications as transgenic cell construction, in which candidate clones must be picked following transfection, or culturing skin grafts, in which it is necessary to remove an intact layer of cells or tissue.
A T-bar position indicator at the base of the neck eliminates over- or under-tightening of the cap. Filter caps incorporate a 0.22 µ hydrophobic PTFE membrane. Vent caps have a two-stage close: fully closed and no gas can enter or exit the vessel; a quarter turn back and the cap clicks into place, a position in which uniformity of gas exchange between multiple flasks is guaranteed, improving reproducibility of cell proliferation.
The optically clear flasks feature easy-to-read white graduations, are made of virgin plastic of the highest purity and quality, and fulfill the requirements of Pharmacopoeia (USP) Class 6 and Class 1 medical devices according to directive 93/42.