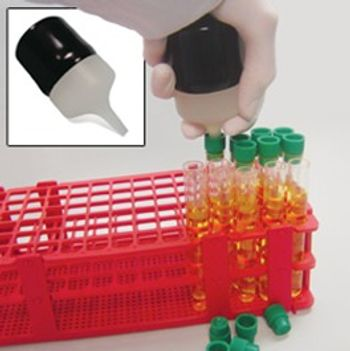 Repetitive capping of test tubes can cause soreness and fatigue of the hands and fingers. With the Scienceware® Test Tube Capper from Bel-Art Products, you can use your entire arm for leverage, reducing finger soreness and hand stress.
A vinyl covered handhold fits comfortably in the palm of the hand while a polypropylene tip presses down on the cap to securely position it within the test tube.
"Users can quickly cap rows of test tubes when lined up in a rack, or single tubes can be capped while held in the opposite hand," according to Lenny Hernandez, Product Manager for Bel-Art Products. "This unique tool makes life in the lab more pleasant by making a repetitive task easier to accomplish."
The Scienceware® Test Tube Capper is designed for use with recessed center test tube caps. Capping can be performed on glass or plastic test tubes.
Suggested list price for the Scienceware® Test Tube Capper, catalog no. F18799-0000, is $22.00. Itmeasures 4.4 diam. x 8.9cmH (1¾ x 3 ½").
To see the Scienceware® Test Tube Capper in action, please click here