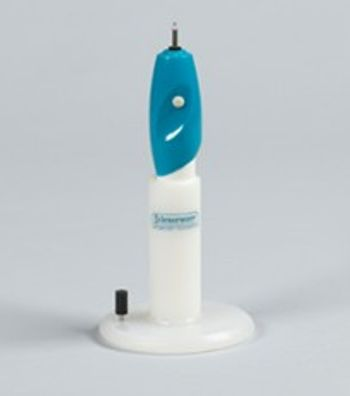 When temporary labeling simply will not do, reach for the new Battery Powered Engraving Tool from Bel-Art Products. It puts the ability to permanently engrave items at the tip of your fingers eliminating worry about pen markings or adhesive labels fading, peeling off or not fitting the space. Battery powered, the cordless tool can be used just about anywhere, indoors or out in the field. "It is almost as easy as writing with a regular ball point pen and much more versatile" says Lenny Hernandez Product Manager for Bel-Art Products.
The Battery Powered Engraving Tool can be utilized on surfaces such as glass, plastic, metals, bone and stone. In the laboratory, use the portable tool to etch an array of supplies including glassware and plastic beakers, microscope slides prior to staining, laboratory equipment and pipetting accessories. Personal equipment such as stainless steel tools, which can be quite expensive, or other belongings can be easily identified by engraving with your initials in an inconspicuous place.
"The engraving is permanent and will not fade with exposure to chemicals, sunlight, or other harsh conditions like extreme temperatures" says Hernandez who also explained the difficulties of temporary labels. "There is always a concern that while conducting an experiment, samples labeled with stickers or marked with various types of ink pens will wash off, bleed or become illegible. Without proper identification of samples, an experiment can be 'ruined', data becomes useless and valuable time has been wasted. The Battery Powered Engraving Tool eliminates this possibility."
Hernandez also suggests that the Battery Powered Engraving Tool is "great for adding information, such as the name of the laboratory, room number or researcher to glassware and plasticware that is cleaned in centralized wash facilities. In addition two minutes spent engraving the source or vendor item number on preferred supplies can save valuable time when you need to reorder."
He went on to add, "Actual engraving can be done in seconds. Simply hold the tool like a pen, then press and hold the power button. While the tip is spinning, apply light pressure, and "write" just as you would with a pen." The Battery Powered Engraving Tool is 7" long, operates on two 'AA' batteries (not included,) and comes with an extra engraving tip.
Bel-Art Products also offers a custom stand that holds the Battery Powered Engraving Tool as well as the extra tip when not in use. Suggested retail for the Battery Powered Engraving Tool, catalog #F44150-0005, is $21.00. The Engraving Tool Stand, catalog #F44150-0015, has a suggested retail of $11.50.
Click here to see the Battery Powered Engraving Tool in action.