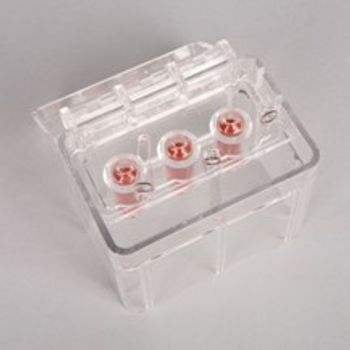 Open up to 3 ampules at a time, safely and easily with the Scienceware®Break-Safe™ Ampule Opener from Bel-Art Products. The unique, patent pending box style design uses the lid of the box to snap ampule necks while containing all glass pieces within the box.Four included inserts allow opening of 1ml, 2ml, 5ml and 10ml ampules.
"The ampule tops remain inside the box, while the ampules and their contents stay securely upright within the proper insert. And, fingers stay away from sharp edges eliminating the risk of injury" says Lenny Hernandez, Product Manager for Bel-Art Products.
"After the ampule contents are acquired, just turn the device upside down over a trash receptacle to safely discard ampules and tops."
Hernandez went on to explain "A retired army veteran came up with the original idea. Prescribed pain medication was contained in ampules which were difficult to open due to his limited use of one arm. He needed a device that allowed him to break the ampule necks using one hand while preventing injury or spilling the ampule contents. Bel-Art expanded on that idea and created a device focusing on easy, safe opening of 3 ampules at a time, which is often needed in lab processes."
Made of clear, copolyester plastic, the Scienceware® Break-Safe Ampule Opener has broad chemical resistance and provides unobstructed viewing of ampule contents at all times. Suggested list price for the Scienceware® Break-Safe Ampule Opener with inserts, catalog no. F38952-0000, is $40.00.
Click here to see the Break-Safe™ Ampule Opener in action.