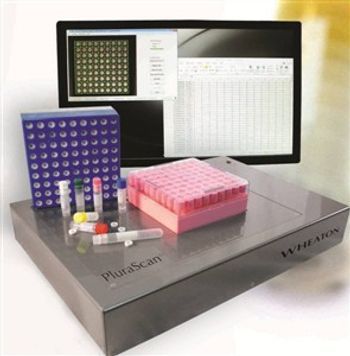 New device for scanning and reading 2D data matrix barcodes on multiple cryo tubes simultaneously through open-bottom freezer boxes
The advent of large-scale screening in biomedical laboratories has led to the generation of vast quantities of samples requiring time and resource management. With this in mind, WHEATON, the company that designs and delivers today's most innovative solutions for the laboratory research, diagnostic packaging and specialty pharmaceuticals industries, introduces the PluraScan. The new WHEATON PluraScan is a barcode scanner designed to capture data stored as 2D data matrix barcodes on cryogenic storage vials, thus saving time while reducing data entry errors. The PluraScan Barcode Reader comes with an out-of-the box software decoder system to import your repository samples into the existing laboratory management software package of your choice.
Capable of scanning up to 100 samples simultaneously, the PluraScan Barcode Reader can scan and read individual barcodes on each vial stored in an open-bottom cryogenic storage box simply by placing the box on the scanner. A frost reduction system allows the PluraScan Barcode Reader to scan up to 40 WHEATON KeepIT®81 or 100 Boxes immediately after removal from ultra-low temp storage (3,240 or 4,000 samples, respectively). The acquired, decoded 2D data are imported directly into most laboratory information management systems (LIMS) and databases, ensuring a reliable method of storing, tracking and retrieving sample vials.
The PluraScan Barcode Reader scans 2D data from any vial or ampule, and is adaptable for use with many different rack and box formats. It connects easily to a computer with a standard USB 2.0 interface and integrates smoothly with Windows® operating systems. The WHEATON PluraScan reads barcodes from a wide range of manufacturers and label printers, and outputs data directly to Microsoft® Excel® or to a customizable text file.
One of the key added benefits the PluraScan Barcode Reader brings researchers is its out of the box compatibility with the WHEATON 2D barcoded CryoELITE® cryopreservation vials and glass ampules in conjunction with the open-bottom KeepIT Freezer Boxes.
"We have watched closely as scientists have adapted their day to day activities to carefully managing a blizzard of samples, because they know the key to their research may be in one of those little vials they are using," says Stephen R. Drozdow, president of WHEATON. "Our integrated system of biobanking products, which now includes the PluraScan, was specially developed for those scientists who have put their lifeblood into their work," he added.