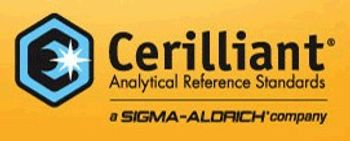 Ceriliant introduces a Certified Spiking Solution of aldosterone at a concentration of 100 ug/mL in acetonitrile. This certified reference solution is suitable for use as a critical starting material in preparation of linearity standards, calibrators, or controls for aldosterone testing by LC-MS/MS.
The Endocrine Society recommends using the aldosterone to renin ratio (ARR) for primary aldoteronism (PA) screening of patients at a high risk for hypertension. Ensuring accurate, consistent, and reproducible ARR test results is critical not only for proper diagnosis and treatment of PA but also for ongoing management of the condition. Test results are only as accurate as the reference, therefore any significant difference in purity of the aldosterone reference material from lot to lot could increase variability and impact the potential for a false-positive or false-negative diagnosis.
It is important to use Certified Reference Materials (CRM's) for clinical applications, rather than research chemicals. Because research grade chemicals are not produced to the same standards and specifications as Certified Reference Materials (CRMs), use in clinical testing applications can lead to errors in quantitation, with potentially serious therapeutic implications. According to Uma Sreenivasan, PhD and Chief Science Advisor at Cerilliant, "the specifications and design for research chemicals are very different from that of CRMs which are synthesized to the highest quality, thoroughly characterized and fully certified to ensure suitability for use and lot to lot consistency. Commercial sources of aldosterone also vary in process and characterization of the product to design a high purity material for clinical applications.
Starting with Cerilliant Certified Spiking Solutions eliminates variability that may arise from differences in weighing of compounds or their purity from lot to lot. Cerilliant solutions begin with extensive characterization of the neat materials to determine an accurate weighing adjustment followed by gravimetric preparation using validated processes and flame sealing under argon into ampoules for long-term shelf-life. Cerilliant Snap-N-Spike solutions are prepared and certified to the highest industry standards including ISO Guide 34 and ISO 17025.
Cerilliant's aldosterone reference standard is the latest addition to its Certified Spiking Solution® offering of hormones monitored by LC-MS/MS and HPLC. Recent additions for newborn screening include 17α-Hydroxyprogesterone, Cortisol, 11-Deoxycortisol, 21-Deoxycortisol, Corticosterone, Dehydroepiandrosterone (DHEA), DHEA 3-sulfate sodium salt, Androstenedione, Testosterone, and their deuterium-labeled internal standards. Cerilliant also has introduced Androstene-3,17-dione-2,3,4-13C3; 17α-Hydroxyprogesterone-2,3,4-13C3; and Testosterone-2,3,4-13C3 as its first 13C-labeled hormone Snap-N-Spike® solutions with 17β-Estradiol-2,3,4-13C3 available Summer 2012.