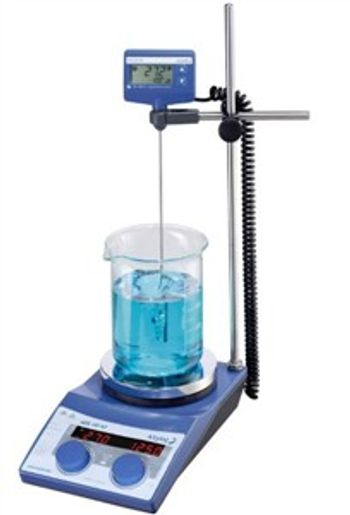 With a strong emphasis on safety the newly designed Asynt hotplate stirrer incorporates two independent control circuits, so that the set temperature values are held constant in the event of one circuit malfunctioning.

According to Dr Kerry Elgie, at Asynt, 'The expanded range of safety features makes this hotplate stirrer eminently suitable for unsupervised operation in the chemistry lab. The safety circuit for the heating plate temperature can be adjusted between 50 and 360 ºC, but cannot be changed accidentally. This ensures that the flashpoint of the medium is not exceeded. A 'Hot Top' warning indicator to prevent burns and easy-to-read digital displays with error code warnings are also included."

Manufactured in an ISO9001-2008 production facility the Asynt hotplate stirrer has a hermetically sealed design to protect the motor assembly from spillages and a highly polished aluminium hotplate for optimum heat transfer. New technology and a stronger motor provide greater capacity, a higher range of speeds, faster heating and improved magnetic adhesion.

To enable all labs to benefit from the new product - Asynt is offering the new hotplate stirrer, together with everything a chemist needs to stir and heat at precisely controlled temperatures, at special discounted prices**.