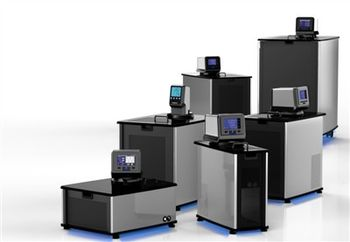 PolyScience has introduced its latest generation of refrigerating/heating circulating water baths. Available in 40 different models, these elegantly designed baths feature temperature ranges as broad as -40° to +200°C, temperature stabilities as exacting as ±0.005°C, and come in reservoir sizes ranging from 7 to 45 liters. Six different temperature controllers are available, including two with time/temperature programming capability.
Designed with the work habits and needs of laboratory personnel in mind, PolyScience Refrigerating/Heating Circulators incorporate many ergonomic features to make life in the lab more productive and efficient. Among their many design innovations include a swiveling control head that permits viewing of the temperature display anywhere within a 180° viewing radius, an integral lid docking system for no-mess reservoir cover storage, and a corrosion and chemical resistant top plate that dampens noise and remains cooler at high temperatures.
Among the temperature controllers available are PolyScience's new Performance Programmable, Performance Digital, Advanced Programmable, Advanced Digital, Standard Digital, and MX models. All feature extra-large digital readouts, highly intuitive operation, and calibration capability.