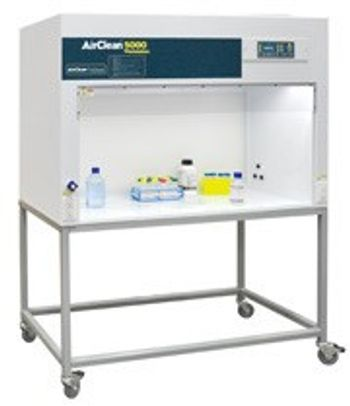 AirClean® Systems, a world leader in ductless laboratory enclosures, has upgraded all AC4000-Series horizontal laminar flow clean benches to a new dual-wall design, providing a convenient space for the mounting of service fixtures and electrical outlets. Each updated clean bench, from the four-foot AC4000HLF to eight-foot AC8000HLF, provides the same quality construction, HEPA filtration and smooth ISO 5 horizontal laminar airflow users have come to expect from an AirClean Systems product.
The thermally-welded polypropylene construction of each AC4000-series laminar flow clean bench provides a seamless interior that is easy to clean. Polypropylene is non-porous and chemically resistant, eliminating the potential for rust and allowing the enclosure to be placed in a variety of environments. Sturdy metal stands and base cabinets are available from AirClean Systems, however the ductless bench-top AC4000-Series clean benches can be placed on virtually any work surface with a 30" depth.
The UVTect™ Controller, standard on all AC4000-Series clean benches, constantly monitors HEPA filter conditions and airflow. UVTect alerts the operator of insufficient airflow, ensuring that your workspace is in compliance with the correct clean bench standard. Easily-changed particulate pre-filters are top-mounted, capturing larger particulate to extend primary HEPA filter life.
Laminar flow clean benches from AirClean Systems are the ideal solution for Class 100 (ISO 5) applications where process protection is needed. These enclosures can be used for many applications - media plate pouring, electronic assembly, hard drive repair, sterile compounding, optics work, pharmaceutical dosing, medical device preparation and many more.
AirClean Systems laminar flow clean benches are made in the USA and ship fully assembled.