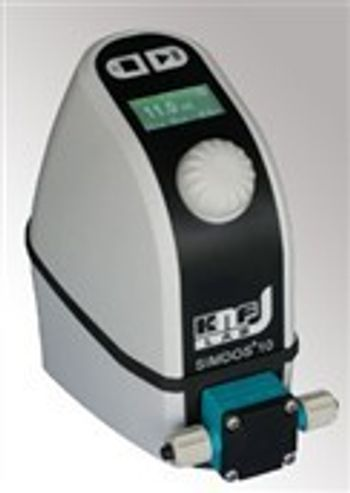 KNF SIMDOS® 10 Series diaphragm pumps introduce smart solutions to transfer and dose neutral or corrosive liquids quickly and easily in the lab. A user-friendly display combined with a touch-control knob allows for simple and intuitive setup and operation. The pumps can be calibrated precisely in minutes and, following calibration, can maintain reliable repeatability at +/- 1%.
These pumps transfer liquids with a flow rate of 1 ml/min to 100 ml/min and dose volumes from 1 ml to 1000 ml. Pumps are effective against pressures up to 90 psig and transfer viscous media at a full flowrate up to 150 centistokes. The maximum handled viscosity is 500 centistokes at a reduced flowrate. Integrated software permits transfer and calibration parameters to be modified for a range of different viscosities at the touch of a button.
Among other advantages, SIMDOS 10 pumps can run dry without damage, are self-priming up to 9 ft. of water, and available with a variety of wetted materials, including corrosion- resistant PTFE/FFPM. For added safety the pump head is situated outside a splash proof IP-65 housing.
The pumps feature a compact footprint to conserve valuable laboratory benchtop space and their diaphragm technology eliminates contamination of the pumped medium.
RC versions can be supplied enabling TTL and analog control of pump functions. Additional available accessories include footswitch and mounting hardware.