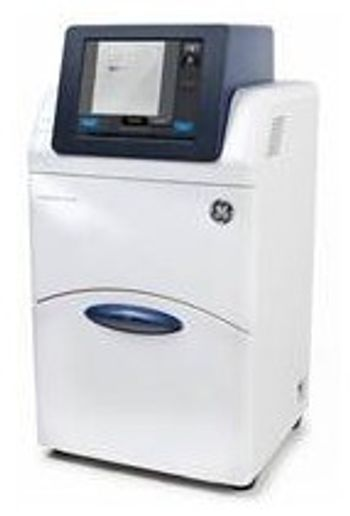 Affordable, fully integrated system with plug and play simplicity
GE Healthcare's ImageQuant™ LAS 500 is designed for fast and easy imaging of chemiluminescent Western blots, fluorescent proteins, DNA gel stains and white light imaging of colorimetric stains and markers. The system offers high sensitivity with a wide dynamic range and enables detection of picogram levels of chemiluminescent samples.
All tasks on the ImageQuant LAS 500 are controlled via the integrated touchscreen including the automatic overlay function which allows users to compare chemiluminescent samples to a coloured molecular weight marker and estimate the detected proteins' size and orientation on the membrane. The system is fitted with a 16-bit, 8.3 megapixel Peltier cooled, CCD camera with a 30mm fixed focus lens that cools to -25°Cin less than 5 minutes, enabling rapid image capture. Combined with binning and advanced CCD read-out technology (patent-pending) this significantly reduces noise levels and improves both the sensitivity and linearity of the system.
Able to be installed within minutes, without the need of a service engineer, the ImageQuant LAS 500 has a lab footprint the same as a typical laptop computer (30x28 cm). The fully integrated system does not require a dedicated PC and, using the intuitive analysis software, images can either be stored directly on to USB or transferred via a network connection to other devices.