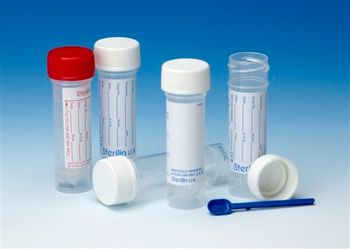 Thermo Scientific Sterilin Quick StartContainers Provide Leak-Proof Performance and Greater Temperature and Chemical Resistance
Thermo Fisher Scientific Inc., the world leader in serving science, today introduced its Thermo Scientific Sterilin Quick Start 30mL Polypropylene Universal Containers. Because the containers are leak-proof, resistant to temperature and chemicals and easier to use, they can better protect samples in all types of laboratories.
The Sterilin Quick Start containers are manufactured from clear polypropylene, which has greater temperature and chemical resistance than other materials such as polystyrene. This meets the needs of a wider range of laboratory applications, from healthcare to life science research.
The new containers have a Quick Start cap with a three-start thread, reducing the number of turns to open and close it. In an independent evaluation against similar products, the containers' new multi-seal design provided unrivalled leak-free performance. Additionally, a lot number is printed on each container to aid traceability, and the containers are supplied in eight handy bags of 50 (400 containers to a carton).
"The Thermo Scientific Sterilin QuickStart 30mL Universal Containers in clear polypropylene offer significant benefits to laboratories across all industries," said Rachel Adams, marketing manager, Thermo Scientific Sterilin products. "These versatile products complement our standard polystyrene 30mL universal containers, providing our customers with greater choice to suit both their everyday and more challenging needs."