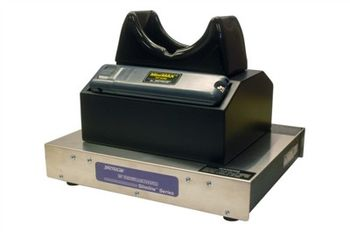 The compact, lightweight CM-10MP mini viewing cabinet is perfect for any type of life science application requiring high-contrast fluorescence analysis. It is also excellent for viewing TLC plates and for quality control inspection of PC boards.
Weighing only 4 lbs. (1.8 kg), it can be conveniently carried from place to place. With its compact dimensions of 8.75W x 10L x 4.5"H (22.2W x 25.4L x 11.4 cm H), this space-saving unit can fit easily in cramped areas.
The CM-10MP is made of molded, high-impact plastic for rugged durability. It features a contoured eyepiece with a built-in UV-absorbing window for safe viewing.
Openings on top of the cabinet accommodate one or two MiniMAX™ Series UV lamps. Simply place the cabinet over the lab samples being examined, turn on the UV lamps and observe the bright fluorescent response. MiniMAX™ lamps are available in three models—UV-5A for long-wave UV (365 nm), UV-5F for short-wave UV (254 nm) and UV-5NF for a combination of both long- and short-wave UV emissions.