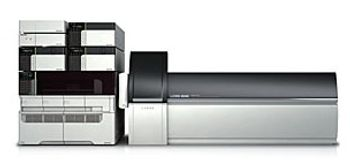 Shimadzu Scientific Instruments introduces the LCMS-8040, a triple quadrupole mass spectrometer, which combines newly improved ion optics and collision cell technology with proprietary ultra-fast technologies. This significantly expands the application range and ensures high-sensitivity, high-throughput analysis at lower levels of detection.

The LCMS-8040 incorporates newly improved ion optics (UF-LensTM), which integrate two multi-pole RF ion guides, and UFsweeper™ II collision cell technology to provide higher multiple reaction monitoring (MRM) sensitivity. A five-fold increase in sensitivity (reserpine, S/N ratio) has been achieved by improving ion focusing and minimizing ion losses between multi-pole lenses. These improvements also yield higher sensitivity for scan mode measurements, expanding the potential range of LC/MS/MS applications.

The LCMS-8040 achieves MRM transition speeds up to 555 MRMs per second with UFsweeper II technology. UFsweeper II features high-speed ion transport technology that maintains sensitivity and suppresses crosstalk, even for high-speed or simultaneous multi-component analyses. In addition, the LCMS-8040 features the world's fastest polarity switching at 15 msec and a high-speed scanning rate of 15,000 u/sec for maximum analytical throughput.

LabSolutions LCMS software offers a variety of data processing features, including a Quantitation Browser, which processes multiple analytes, and a Data Browser, which allows users to analyze and compare multiple sets of data in the same window. Users also can easily optimize MRM parameters with LabSolutions software by utilizing automated flow injection analysis.

For improved performance, Shimadzu provides a variety of method packages to eliminate the need for MRM determination and chromatographic method development. Additionally, the LCMS-8040 features a robust, user-friendly interface; compatibility with LCMS-8030 MRM parameters for easy method transfer; and easy maintenance to ensure maximum instrument operation.