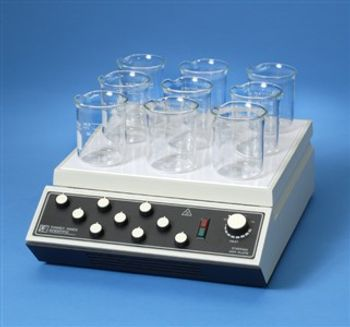 Torrey Pines Scientific, Inc. announces its new line of multi-position analog stirring hot plates and stirrers featuring 5 or 9 stirring positions.
The large 12" (30.48cm) square ceramic heater tops have a temperature range to 400°C. The 5-position stirring units can stir 5-800ml beakers, and the 9-position units can stir 9-500ml beakers of aqueous solutions. Stirring range is from 100 to 1500 rpm. The units are available with voltages and agency certifications for use all over the world.
The Models ST15 Stirrer and the HS15 Stirring Hot Plate can stir 5 vessels. The ST19 Stirrer and HS19 Stirring Hot Plate can stir 9 vessels. The units measure 19" (43.2cm) deep by 12.5" (31.75cm) wide by 5.25" (13.4cm) tall.
All controls are mounted well in front of the heater surface to protect against accidental burns and they are designed to keep spills out of the chassis.
The units are available in 100VAC/50Hz, 115VAC/60Hz, 220VAC/60Hz and 230VAC/50Hz. They are fused for safety and are supplied with user's manual and detachable line cord for the country of use.
All Torrey Pines Scientific products are Made in the USA. They are all UL, CSA and CE or equivalent agency certified and available in voltages for use anywhere in the world.